About Fitday.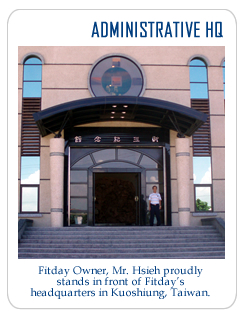 Fitday Enterprise's modern, automated facility serves as a manufacturer of licensed Goodyear shoe products in China. The plant owned and run by Fitday Enterprise Ltd. a division of Tung Lung Chemical Co., Ltd. ships many types of shoe products throughout Asia and North America. Fitday Enterprises was started in Taiwan in 1969. Our facilities moved to China in 1999 and have grown to a capacity of over two million pair per month in a variety of rubber and plastic polymers. Realizing that many of today's large capable shoe factories include their own rubber production, We understand that we need to offer superior service and technology to remain an independent leader in the shoe products business.
The Goodyear partnership
During the mid 1980's Ftday partnered with an american shoe component company and obtained the license to sell Goodyear shoe components in North America and throughout Asia. Since then, this partnership has grown to create a unique position for Fitday in the marketplace. As brands and shoe factories grow larger and more vertical, Fitday concentrated on technology and productivity in order to set it self apart.

Today we offer footwear solutions for industrial non-slip, restored rubber green solutions and other technical solutions to modern problems not offered by the average rubber factory. All this is available in concert with the world wide recognition of the most famous name in rubber technology- Goodyear.