In the last few years industry has concentrated on footwear for accident prevention in both industrial and commercial buildings. Our ULTRA-GRIP line of proven slip resistant polymers combined with over 30 years experience offer you an edge over the competition.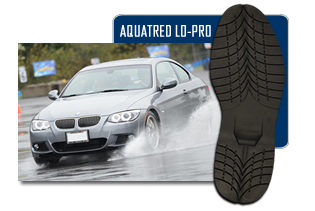 The Ultra Grip family is a special group of rubber polymers. These polymers were developed for the highest possible traction On specific surfaces for industrial and commercial use. Ultra grip technology is normally combined with special geometric designs to pass rigid industry test standards for the worlds most stringent non slip tests. Ultra Grip surpasses the US, Canadian and EU test standards for slip on wet, oil AMD oil/wet surfaces when used with a proper geometry.

Goodyear Ultra Grip compounds are available in three types: for industrial non slip use UGO, for ice and snow use UGI, for water use UGW. We are happy to provide our extensive test data to support the claims that Ultra Grip out performs any compound in industry standards when combined with a suitable design geometry.
For the most demanding commercial and industrial non slip applications. Contact us to learn how to use these proven compounds in your special need projects.